Concrete Flat Sawing
Our trained operators are equipped to remove trenches and slabs quickly.
Concrete flat sawing is the most identified diamond cutting method. In some areas of the country, it is also called Slab sawing since horizontal installations of concrete are often referred to as "slabs" of concrete. Flat sawing features a diamond blade that is mounted on a walk behind machine requiring one operator. These horizontal surfaces can be slab on grade floors (concrete installed on a stone base), bridge decks, driveways, structural or elevated slabs, and pavement.
Flat sawing can be performed with an electric or diesel unit. The type of motor becomes an issue with the location of the work. If you work is located outside in a large building with adequate ventilation, our fleet of diesel saws may be the right solution to their better productivity. Our newer saws that are tier 4 compliant motors produce very little emissions. Our non-tier 4 saws are equipped with scrubbers to allow interior work in large spaces.
When you call, please be prepared to discuss available power options for electric flat sawing. A large portion of our trucks are equipped with generators if your building can not meet the power needs.
If the concrete happens to be in a basement or a confined area, our small electric saw may be the remedy you need to efficiently cut. It is able to be transported up and down stairs with two people. But there are areas where a flat saw will not work.
Generally, cuts can be made up to 24" deep. However, we do offer specialized cuts of up to 27" deep. If the floor cutting requires deeper sawing, we may utilized track sawing or wire sawing to get the depth necessary.
We also can saw a variety of materials and metals including zinc, magnesium, and beryllium.
Typical Applications Include:
Cutting reinforced concrete floors

Cutting expansion and control joints

Trenching for electrical installation

Trenching for plumbing installation

Removing damaged pavement

Clean and repair cracks

Openings for staircases, elevators, and ductwork

Roof Openings

Highway, road, and driveway cutting
Flat sawing is the most commonly used diamond cutting method. It is typically used to cut horizontal flat surfaces such as floors, bridge decks, and pavement. Also called slab saws, flat saws feature a diamond blade that is mounted on a walk-behind machine requiring only one operator. They can cut up to 24" in depth. Flat saws are typically used to provide expansion joints, remove damaged pavement sections, clean and prepare random cracks for repair, and remove concrete sections for demolition purposes.
Electric Flat Sawing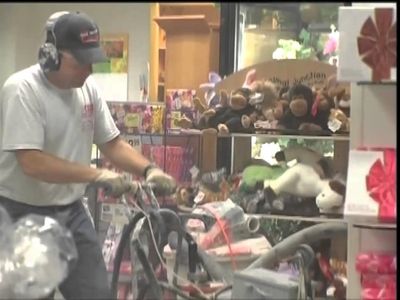 Chain Sawing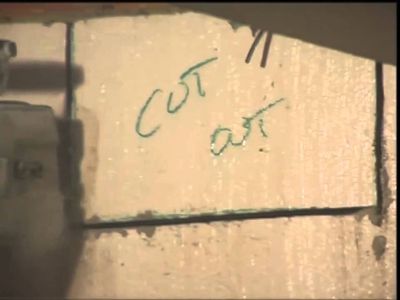 Slab Sawing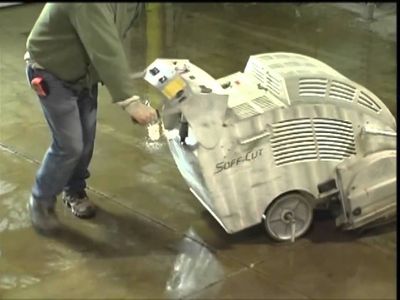 Solution To A Drainage Problem
Ohio Concrete was called to a customer's house who recently had a bluestone patio added to their backyard.
The customer indicated that the patio did not drain properly and puddling from rain remained for days.
After assessing the patio, it was not installed correctly. Ohio Concrete assessed the project and offered two options.
Option 1) Remove all of the stone and install a properly sloped substrate. This would have cost tens of thousands of dollars. Option 2) Ohio Concrete proposed a linear drain system.
The most difficult part of installing a linear drain system on a natural stone surface is that the surface is not completely flat making straight-line cutting very difficult.
Our operator cut a straight as an arrow 2-1/2" wide channel, 4" deep. One for the upper patio and one for the lower patio proved to be the trick for the drainage issues. A straight cut and removal to the proper depth made installation of the drain a breeze for the homeowner.
Another job made easy by having the right tools and know-how. Call us for your next concrete problem!