Electric Mini-Excavator
All Electric, fume- free trench digging completely quickly so your project moves fast.
Multiple bucket sizes and concrete breaker attachments are available to meet any job's requirements. If you need, we can also provide the manpower to excavate, remove spoils, backfill, and install concrete. The 220/480 volt electric motor conveniently plugs into our trucks or your facilities' power and will dig to a depth of 5 feet and fit through a 34" wide doorway. This tool can be a huge time-saver for your project.
Electric Excavating
100% Electric, Fume-Free Tools. Concrete Sawing, Removal & Excavation
Job completed with NO FUMES. NO NOISE.
GPRS - Ground Penetrating Radar Systems, outgrew the building they built a few years ago. GPRS has grown to over 250 employees that have a presence in every major city in the U.S. GPRS purchased an existing building on Monroe St. and needed a new training slab for their new employees.
The new training slab required removing 1250 sq. feet of existing concrete, excavating 1100 cubic feet of the dirt below the slab prior to installation of the conduit, new steel, post-tensioned cables that will be in the new training area.
Because the building is occupied and very busy, Ohio Concrete Sawing and Drilling used their electric saws, electric fork truck, electric excavator along with electric concrete polishing equipment to complete this work with minimal noise and 100% fume free.
GPRS decided to polish the finished slab because the training slab will be marked up every week as they bring in new employees to train. The old markings will need to be completely erased prior to a new training class testing their skills to locate the items contained in the concrete.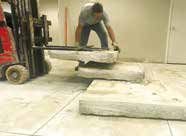 Removal of existing slabs of concrete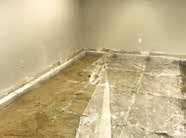 Excavation of dirt below the slabs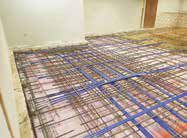 Installation of conduit, steel, and cables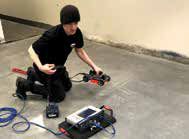 Polished, concrete training slab completed
If you have a project within a hospital, retail store, or any occupied structure where fumes and noise are a problem, give us a call and ask about our fume-free 100% electric tools!