Concrete Floor Grinding, Shaving, and Milling
Removing concrete from the surface quickly with our line of dry tools.
Diamond tools are an ideal way to smooth out bumps and trip-hazards in concrete floors. It is not unusual for adjacent floor slabs to have slightly different elevations, but grinding concrete with diamonds is the least expensive way to eliminate these problem areas.
Michigan Concrete's grinder and compact concrete shaver grinding tools can help correct concrete problems without completely removing the old concrete and installing new.
Concrete grinding is often used to fix the following:
Uneven joints creating possible trip-hazards
Spalled areas and deteriorating surfaces
Old paint, coatings, adhesives, and mastics that need removed
Uneven floor level that makes tile and flooring difficult or impossible to install
Poor concrete installation
Surfaces that are too rough for bare feet
We will work closely with contractors to level the floor and make it the desired subfloor. While this process requires multiple passes and multiple checks by our customer, it is far less expensive and less intrusive than complete slab replacement.
The tools are fume-free and dry for indoor or outdoor applications, and they utilize an industrial mobile vacuum system, thereby leaving a clean dry surface. The dry waste is removed from your location and properly disposed of. Multiple surface finishes are also available for your application.
Beneficial outcomes:
Chemical free process
Increased traction
Production time is greater than shot blasting and scarifying
Renewed surface opened to receive new coating or flooring
Eliminate trip and fall hazards
Reduced Prep time for flooring installation
Cleaned Surface
Concrete milling utilizes a "stack" of saw blades to remove the top surface of the concrete slab. This milling or shaving device is a complete dry operation when used in conjunction with our large HEPA filtration vacuums. Concrete can be milled in 1/8" Passes effectively. This is great for lowering the height of the floor or the overall thickness of the slab. It is very difficult to remove more than a half an inch and not recommended for large areas.
Concrete scarifying is slightly different from milling. This tool uses carbide cutters on a drum that act as "tiny jackhammers". They slowly remove the surface of the concrete with a less aggressive approach. This is a much more controlled process of concrete stock removal. This leaves a much less aggressive profile which is great for sidewalk trip hazard removal or raised joints. Can be operated dry or wet.
Ohio Concrete can determine the right tool and process solution for your concrete problem! Click here to contact our experienced commercial contractors today for more information and price estimate.
Floor Grinding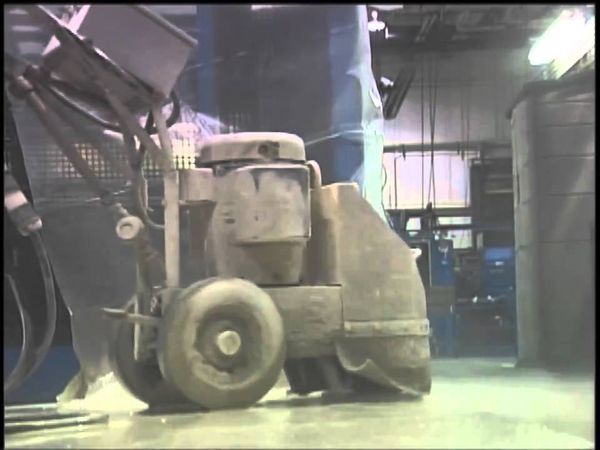 ShaveMaster Exposing Large Aggregate